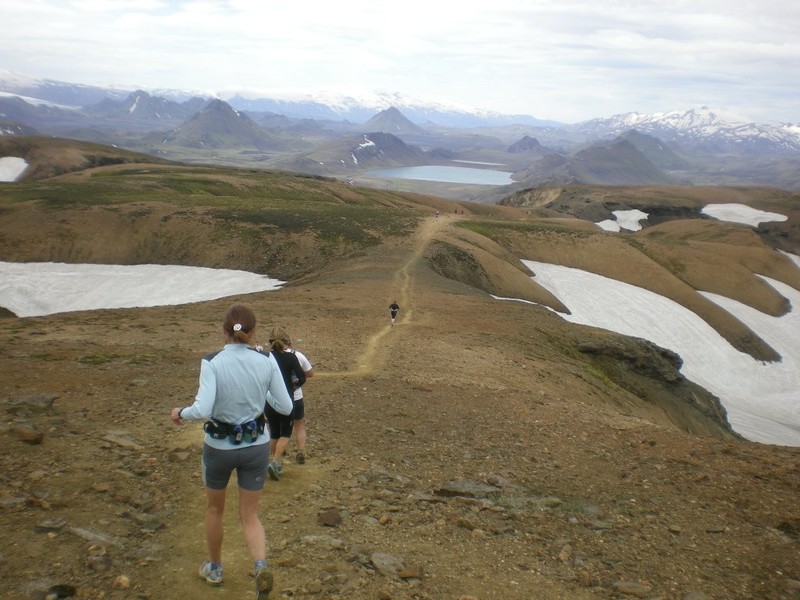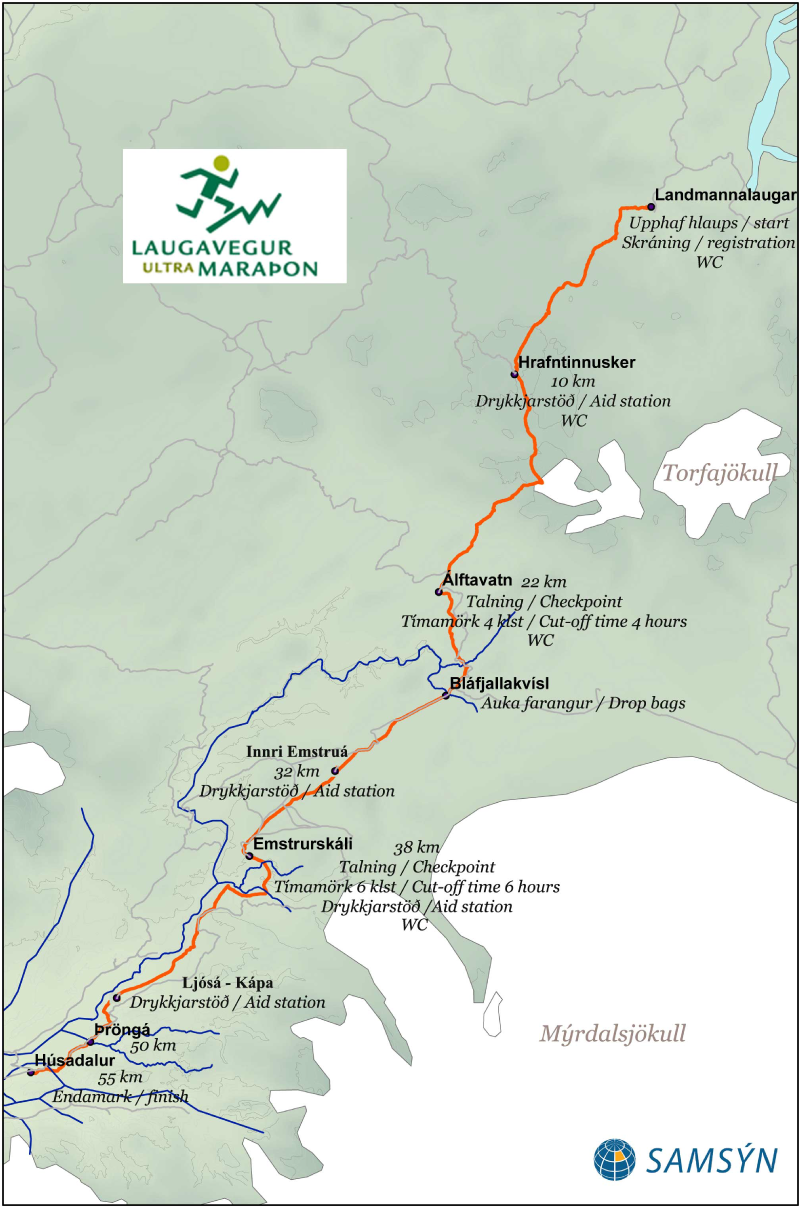 The Laugavegur course is one of the most beautiful in Iceland, stretching from Landmannalaugar in the highlands to Thorsmork, a natural reservation area. The trail is clearly designated with markers, and there will be a staff along the course to guide runners along the trail. Normally, this distance is hiked in four days. We have a more detailed description of the course here on our website.
Landmannalaugar is not only a highly interesting place in a geological sense but also for its history and vegetation. Most important though is the beauty of the surroundings. Such a multiplicity of colours and shapes are not to be found in any other place in nature. This fact and the comfortable natural bath has made Landmannalaugar the most visited spot in the uninhabited areas of Iceland. The place is relatively easy to reach (i.e. with scheduled bus) and offers a huge range of travel possibilities, including riding tours, organised there. A big number of walking paths are especially popular. There is a hut and a campground there with modern sanitary facilities, and a little shop offering the common needs of the traveler (no tank service though). In spite of the human crowd around the campground, it's easy to be alone in magnificent surroundings within a few minutes. The hot pool nevertheless is almost always full of people, like a constant international congress.
Thorsmork - where the run ends - is one of Iceland's brightest pearls, surrounded by rugged and beautiful mountains and glaciers. Popular visit by Icelanders.
Maps of: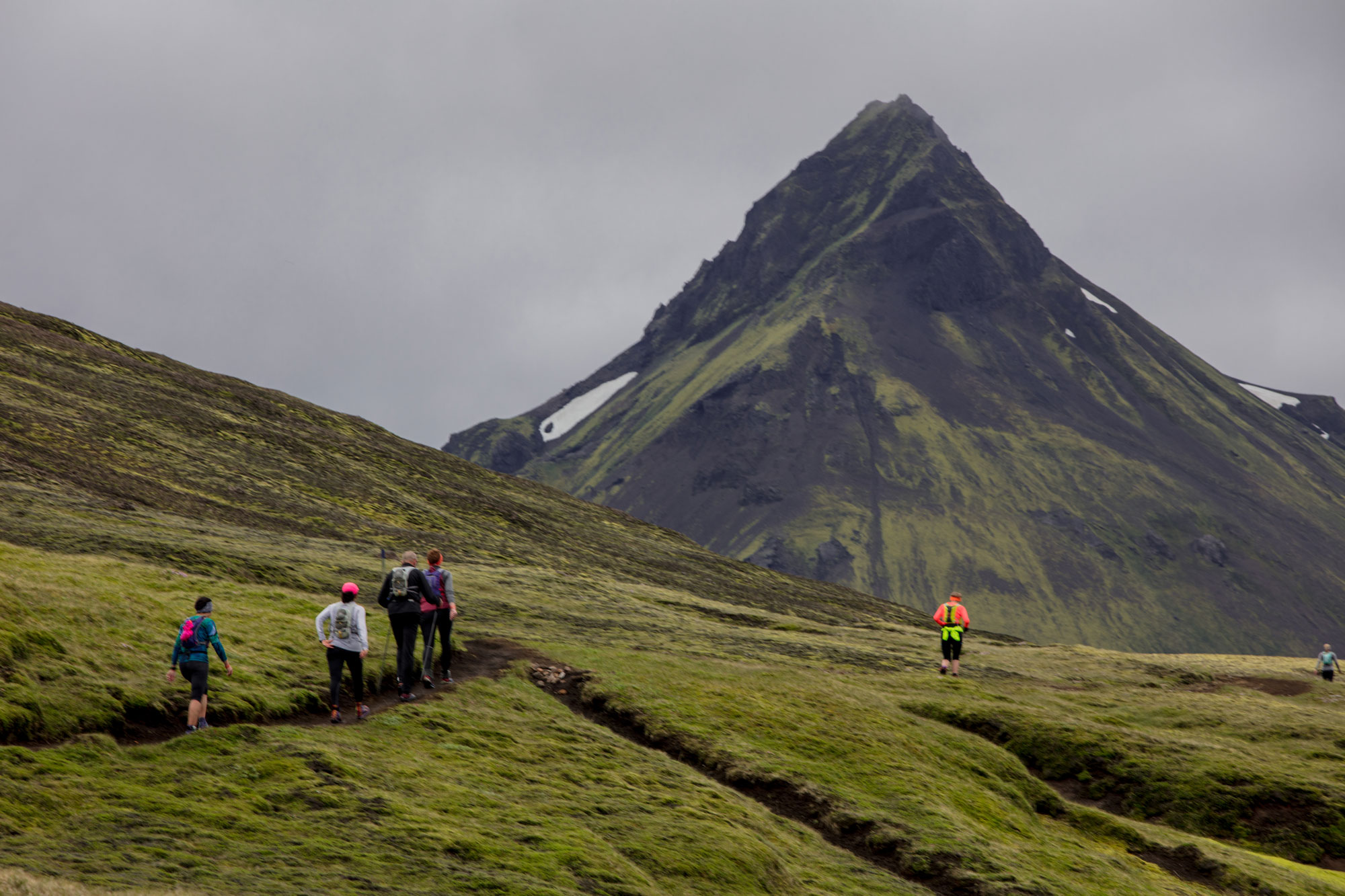 The Laugavegur Ultra Marathon starts in Landmannalaugar which is approximately 600 meters over sea level. Hrafntinnusker is the highest point of the rout, a little less than 1100 meters over sea level.
A 500 m climb in the beginning does not sound difficult but the route is demanding and many runners make the mistake of going too fast in the beginning when climbing up to Hrafntinnusker. Experienced Laugavegur runners that use Garmin GPS measure altitude in every step have found out that the total climb is about 1900 meters and a total of 2200 meters downhill.  
The run ends in Þórsmörk, about 200 meters over sea level. The following picture shows accurately the height changes on the way along with information on service available on the course.