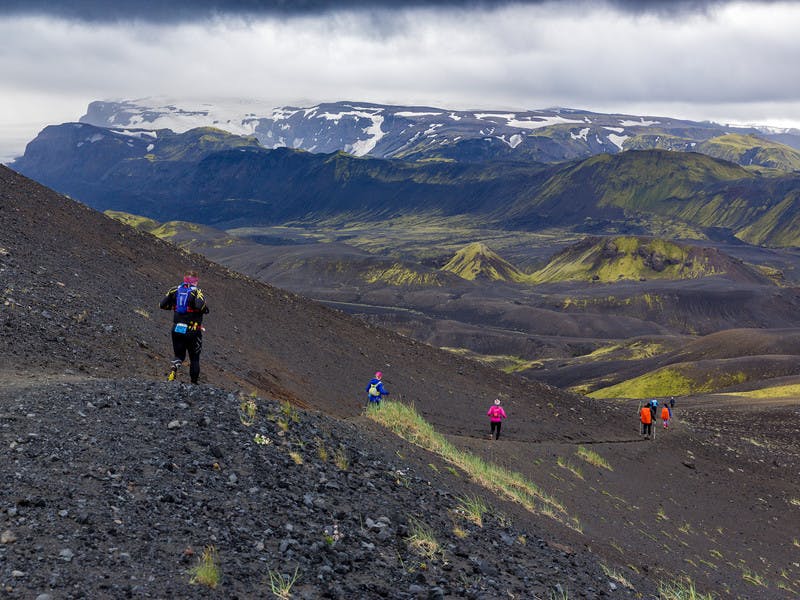 Although the Laugavegur trail is clearly marked it can be good to have a smartwatch with the running course both to know how far it is to the next refreshment station and cut-off time gate and to find the way if the visibility is bad on parts of the trail.
Right click on the button below to save a GPX file that has the GPS track of the trail and information about the refreshment stations and cut-off locations. The track is from runner Sigurður Kiernan and Garmin Iceland added information about the stations.
GPS dots
Following are GPS dots for the main landmarks on the Laugavegur route. 
Landmark
Longitude
Latitude
Longitude and latitude
Landmannalaugar
-19,0612
63,9909
19° 03,67W 63° 59,45N
Hrafntinnusker
-19,1684
63,9330
19° 10,10W 63° 55,98N
Alftavatn
-19,2272
63,8578
19° 13,63W 63° 51,46N
Blafjallakvisl
-19,2213
63,8221
19° 13,28W 63° 49,33N
Emstur cabin
-19,3741
63,7663
19° 22,45W 63° 45,98N
Thronga-river
-19,4971
63,7018
19° 29,83W 63° 42,11N